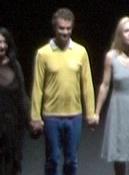 Vicente Arlandis
SPA
Contemporary visual arts often make use of non-visual and non-artistic approaches. Vicente Arlandis turns this relationship inside out, using the visual arts to expand the limits of choreography and performance art. Arlandis has created a conceptual artist who appears in other artists' performances without actually being a part of their works, most frequently appearing onstage during ovations. In this way, Arlandis becomes a part of his colleagues' presentations. In the Czech Republic, this approach is reminiscent of the Krepsko theater troupe's Stolen Ovation – an impulsive, one-time appropriation of the ovation at the National Theatre, which nevertheless aimed to expand the definition of performance art and to communicate with colleagues on a different level of social-artistic prestige. Unlike Krepsko, Arlandis has been holding a systematic discussion with his colleagues from the very beginning; this is his intent. He, too, insists on his appearance being believable. Although he is not a part of the performance, by the time it is over he must have convinced everybody of his self-presentation. Arlandis consults his approach with a German director who has a clear understanding for this naturalist genre – Werner Herzog.
Edith Jeřábková
"I consider myself as a choreographer and Performer in the field of the theatre. With this project my aim is to go beyond the field of the scenic arts. To invent a character , a visual artist that is working on a project in which he appears in different works of other artists and simultaneously he reflects, through a conversation with the German director Werner Herzog, the artistic process of the video installation THANK YOU VERY MUCH." V. A.
*
1976

, SPA

CV:

Vicente Arlandis (Ibi, 1976) .He works as a choreographer and performer in the Group LOSQUEQUEDAN in Valencia. He is graduated by the Escuela Superior de Arte Dramático de Valencia and with a Master in Arts by the Facultad de Bellas Artes de Valencia.
In the last years he has taught several workshops related to the theater and dance performance , How funny is gonna be (Sala Flotant, Valencia, 2005), On the trip (Espai de dansa Botànic, Valencia, 2006), Dance and non-dance (Unstable Theatre, Valencia, 2007). In the year 2009 he proposes in the frame of the festival VEO of Valencia the laboratory Reflections and Bleats, a group of spectators to think about the different cultural manifestations that happen in the festival and in Valencia city. At the moment the group is active.
He receives several scholarships to create artistic projects : Thierry Salmon project where he works with the Belgian artist Jan Fabre (Zaragoza, Lisbon, Rome, Limoges, 2004). Mugatxoan Project (San Sebastian and Oporto) directed by Blanca Calvo and Ion Munduate where Thank you very much Project is initiated.
In 2001 he creates the group LOSQUEQUEDAN together with Sandra Gómez. Performances: Muy Frágil (2001), Soledades (2004), Sonámbula (2006), and the series Borrones: Borrón#1 (2007); Borrones#2-6 (2007) Co-produced by the Festival VEO; Borrón#7 (2007); Borrón#8 (Valencia, 2008).
All of them performed in Valencia ,Barcelona, Madrid, Burgos, Maspalomas (Canarias), Sevilla, Lima (Peru).